Artifact crate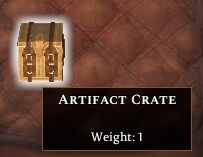 Weight: 5

Artifact Crate is a rare drop from certain Champions. They weigh 1 stone and contain a random decorative housing item when opened.
Season 2 (Current)
Season 1 (no Longer Drops)
The Artist's Cat (Painting)
The Lady Tiffany (Painting)
The Sealed City (Painting)
Bone Candelabra
Hedge
Berry Plant
White Rose
Roasted Pork Platter
Platter of Roasted Turkey
Fruit Platter
Dropped By
Artifact Crates have a chance to drop from the following mobs.