Bless Deed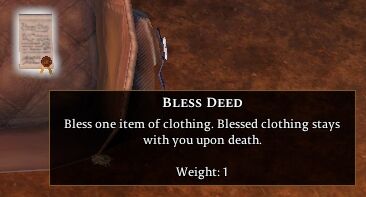 Used to bless clothing items
Weight: 1
Bless Deeds is a reward from the Fabrication Crafting orders. It is the highest tier of rewards and therefore the rarest reward.
Use
[
]
Bless deed is a single use item that can be used to bless a single piece of the following clothing items:
To use the deed, double click on it and target the piece of clothing you would like to bless. It will then have the word Blessed in the item description.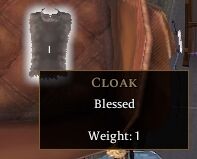 Source
[
]
You have a chance to receive a Bless Deed from the following Fabrication Crafting Orders:
| Item | Quantity | Resource |
| --- | --- | --- |
| HardenedHood | 15 | VileLeather |
| HardenedHood | 20 | VileLeather |
| HardenedHood | 40 | VileLeather |
| HardenedHood | 60 | VileLeather |
| HardenedHood | 80 | VileLeather |
| HardenedHood | 100 | VileLeather |
| LeatherHelm | 20 | VileLeather |
| LeatherHelm | 40 | VileLeather |
| LeatherHelm | 60 | VileLeather |
| LeatherHelm | 80 | VileLeather |
| LeatherHelm | 100 | VileLeather |
| LeatherChest | 15 | VileLeather |
| LeatherChest | 20 | VileLeather |
| LeatherChest | 40 | VileLeather |
| LeatherChest | 60 | VileLeather |
| LeatherChest | 80 | VileLeather |
| LeatherChest | 100 | VileLeather |
| HardenedLeggings | 15 | VileLeather |
| HardenedLeggings | 20 | VileLeather |
| HardenedLeggings | 40 | VileLeather |
| HardenedLeggings | 60 | VileLeather |
| HardenedLeggings | 80 | VileLeather |
| HardenedLeggings | 100 | VileLeather |
| HardenedChest | 15 | VileLeather |
| HardenedChest | 20 | VileLeather |
| HardenedChest | 40 | VileLeather |
| HardenedChest | 60 | VileLeather |
| HardenedChest | 80 | VileLeather |
| HardenedChest | 100 | VileLeather |
| LeatherLegs | 15 | VileLeather |
| LeatherLegs | 20 | VileLeather |
| LeatherLegs | 40 | VileLeather |
| LeatherLegs | 60 | VileLeather |
| LeatherLegs | 80 | VileLeather |
| LeatherLegs | 100 | VileLeather |