(Page is likely out of date. As inferred by a user on Discord, the rewards are likely inaccurate and have been removed for the time being. Should this proven to be false or if new information is found, feel free to restore the reward table.)

Line 1:
Line 1:
 
+

{{version}}

 

'''Crafting orders''' is a system for crafters to obtain new crafting recipes and rewards.[[File:CO_Gettingsmall.gif|right]]

 

'''Crafting orders''' is a system for crafters to obtain new crafting recipes and rewards.[[File:CO_Gettingsmall.gif|right]]

 
 
Line 5:
Line 6:
 

==Completing a Crafting Order==

 

==Completing a Crafting Order==

 
 
−

To complete a crafting order you must craft the number of the item it requires. ''Example: if you receive a crafting order that requires 20 cloth long shirts, you must use the fabrication skill to craft 20 long sleeved shirts''. You then double click the crafting order and use the cursor to click on the items you have crafted. Once you have filled the order you interact with the relevant merchant and hand it in. You will then receive a reward based on the difficulty of the order. The rewards are split into a tiered system with each crafting order separated into a specific reward tier from 1 to 10 that will offer the chance to receive rewards based on that tier.

+

To complete a crafting order you must craft the number of the item it requires. ''Example: if you receive a crafting order that requires 20 cloth long shirts, you must use the fabrication skill to craft 20 longsleeved shirts''. You then double click the crafting order and use the cursor to click on the items you have crafted. Once you have filled the order you interact with the relevant merchant and hand it in. You will then receive a reward based on the difficulty of the order. The rewards are split into a tiered system with each crafting order separated into a specific reward tier from 1 to 10 that will offer the chance to receive rewards based on that tier.

 
 
 

== Rewards ==

 

== Rewards ==

−

When you complete a crafting order there is a chance to receive a reward. These take the form of gold, a random recipe, some resources and or a rarer item such as a bless deed, weapons wrack or clothing dye. The rare rewards are subject to the different skills for example clothing dyes are only available from fabrication crafting orders.

+

When you complete a crafting order there is a chance to receive a reward. These take the form of gold, a random recipe, some resources and or a rarer item such as a bless deed, weapons wrack or clothing dye. The rare rewards are subject to the different skills for example clothing dyes are only available from fabrication crafting orders.

−
 
−
 
−
 
−

=== Blacksmith Rewards by Tier ===

 
−

The following table shows what you have the chance to get for each tier of the [[Blacksmithing]] Crafting Orders.

 
−
 
−

{| class="wikitable"

 
−

|-

 
−

! Tier 1 !! Tier 2 !! Tier 3 !! Tier 4 !! Tier 5

 
−

|-

 
−

|

 
−

*[[Recipe|Random Recipe]]

 
−

* Currency {{Currency2|g=50-150}}

 
−

||

 
−

*[[Recipe|Random Recipe]]

 
−

*Currency 100 -{{Currency2|g=200}}

 
−

*Low chance of Random Damaged Rune Essence

 
−

||

 
−

*[[Recipe|Random Recipe]]

 
−

*Currency 300 -{{Currency2|g=400}}

 
−

*Low chance of Random Damaged Rune Essence

 
−

||

 
−

*[[Recipe|Random Recipe]]

 
−

*Currency 600 -{{Currency2|g=800}}

 
−

*Random Damaged Rune Essence

 
−

||

 
−

*[[Recipe|Random Recipe]]

 
−

*Currency 1200 -{{Currency2|g=1500}}

 
−

*Higher chance at Random Damaged Rune Essence

 
−

*Low chance of Random Rune Essence

 
−

|-

 
−

! Tier 6 !! Tier 7 !! Tier 8 !! Tier 9 !! Tier 10

 
−

|-

 
−

|

 
−

*[[Recipe|Random Recipe]]

 
−

*Currency 1800 -{{Currency2|g=2100}}

 
−

*Low chance of random Shard Essence

 
−

||

 
−

*[[Recipe|Random Recipe]]

 
−

*Currency 2600 -{{Currency2|g=3200}}

 
−

*Low chance of random Threads Essence

 
−

*Low chance of random Shards Essence

 
−

*[[Blacksmith table|Copper Blacksmith Table]]

 
−

*[[Blacksmith table|Gold Blacksmith Table]]

 
−

||

 
−

*[[Recipe|Random Recipe]]

 
−

* Currency 4500 -{{Currency2|g=5800}}

 
−

*Higher chance of random Shard Essence

 
−

*Lower chance of random Pristine Shard Essence

 
−

*[[Blacksmith table|Cobalt Blacksmith Table]]

 
−

*[[Blacksmith table|Obsidian Blacksmith Table]]

 
−

||

 
−

*[[Recipe|Random Recipe]]

 
−

* Currency 8000 -{{Currency2|g=12000}}

 
−

*Chance of random Pristine Shard Essence

 
−

*[[Anvil|Copper Anvil]]

 
−

*[[Anvil|Gold Anvil]]

 
−

||

 
−

*[[Recipe|Random Recipe]]

 
−

*Currency 20000 -{{Currency2|g=40000}}

 
−

*Higher chance of random Pristine Shard Essence

 
−

*[[Anvil|Cobalt Anvil]]

 
−

*[[Anvil|Obsidian Anvil]]

 
−

|}

 
−
 
−

=== Carpentry Rewards by Tier ===

 
−

The following table shows what you have the chance to get for each tier of the [[Carpentry]] Crafting Orders.

 
−
 
−

{| class="wikitable"

 
−

|-

 
−

! Tier 1 !! Tier 2 !! Tier 3 !! Tier 4 !! Tier 5

 
−

|-

 
−

|

 
−

*[[Recipe|Random Recipe]]

 
−

* Currency {{Currency2|g=50-150}}

 
−

||

 
−

*[[Recipe|Random Recipe]]

 
−

*Currency 100 -{{Currency2|g=200}}

 
−

*Low chance of Random Damaged Rune Essence

 
−

*Low chance of random Damaged Trinket Essence

 
−

||

 
−

*[[Recipe|Random Recipe]]

 
−

*Currency 300 -{{Currency2|g=400}}

 
−

*Low chance of Random Damaged Rune Essence

 
−

*Low chance of random Damaged Trinket Essence

 
−

||

 
−

*[[Recipe|Random Recipe]]

 
−

*Currency 600 -{{Currency2|g=800}}

 
−

*Chance of Random Damaged Rune Essence

 
−

*Chance of random Damaged Trinket Essence

 
−

||

 
−

*[[Recipe|Random Recipe]]

 
−

*Currency 1200 -{{Currency2|g=1500}}

 
−

*Higher chance at random Damaged Rune Essence

 
−

*Higher chance of random Damaged Trinket Essence

 
−

*Low chance of Random Rune Essence

 
−

*Low chance of random Trinket Essence

 
−

|-

 
−

! Tier 6 !! Tier 7 !! Tier 8 !! Tier 9 !! Tier 10

 
−

|-

 
−

|

 
−

*[[Recipe|Random Recipe]]

 
−

*Currency 1800 -{{Currency2|g=2100}}

 
−

*Low chance of random Rune Essence

 
−

*Low chance of random Trinket Essence

 
−

||

 
−

*[[Recipe|Random Recipe]]

 
−

*Currency 2600 -{{Currency2|g=3200}}

 
−

*Low chance of random Runes Essence

 
−

*Low chance of random Trinket Essence

 
−

*[[Fabric Racks]]

 
−

*[[Weapon Rack]]

 
−

||

 
−

*[[Recipe|Random Recipe]]

 
−

* Currency 4500 -{{Currency2|g=5800}}

 
−

*Higher chance of random Rune Essence

 
−

*Higher chance of random Trinket Essence

 
−

*Lower chance of random Pristine Rune Essence

 
−

*Lower chance of random Pristine Trinket Essence

 
−

*[[Wooden Table with Cloth]]

 
−

*[[Ornate Drawer]]

 
−

||

 
−

*[[Recipe|Random Recipe]]

 
−

* Currency 8000 -{{Currency2|g=12000}}

 
−

*Chance of random Pristine Rune Essence

 
−

*Chance of random Pristine Trinket Essence

 
−

*[[Arena Dummy]]

 
−

*[[Tent Market Stall]]

 
−

*[[Market Stall]]

 
−

*[[Square Market Stall]]

 
−

||

 
−

*[[Recipe|Random Recipe]]

 
−

*Currency 20000 -{{Currency2|g=40000}}

 
−

*Higher chance of random Pristine Rune Essence

 
−

*Higher chance of random Pristine Trinket Essence

 
−

*[[Library Wooden Table]]

 
−

*[[Stone Table]]

 
−

*[[Tall Cellar Chest]]

 
−

*[[Globe]]

 
−

*[[Mage Grand Tower Blueprint]]

 
−

*[[Tudor House Estate Blueprint]]

 
−

|}

 
−
 
−

=== Fabrication Rewards by Tier ===

 
−

The following table shows what you have the chance to get for each tier of the [[Fabrication]] Crafting Orders.

 
−
 
−

{| class="wikitable"

 
−

|-

 
−

! Tier 1 !! Tier 2 !! Tier 3 !! Tier 4 !! Tier 5

 
−

|-

 
−

|

 
−

*[[Recipe|Random Recipe]]

 
−

* Currency {{Currency2|g=50-150}}

 
−

*[[Bolts of Cloth]]

 
−

||

 
−

*[[Recipe|Random Recipe]]

 
−

*Currency 100 -{{Currency2|g=200}}

 
−

*[[Bolts of Cloth]]

 
−

*Low chance of Random Damaged Thread Essence

 
−

||

 
−

*[[Recipe|Random Recipe]]

 
−

*Currency 300 -{{Currency2|g=400}}

 
−

*[[Bolts of Cloth]]

 
−

*Low chance of Random Damaged Thread Essence

 
−

||

 
−

*[[Recipe|Random Recipe]]

 
−

*Currency 600 -{{Currency2|g=800}}

 
−

*[[Bolts of Cloth]]

 
−

*Chance of Random Damaged Thread Essence

 
−

||

 
−

*[[Recipe|Random Recipe]]

 
−

*Currency 1200 -{{Currency2|g=1500}}

 
−

*[[Quilted Cloth]]

 
−

*Higher chance at Random Broken Thread Essence

 
−

*Low chance of Random Thread Essence

 
−
 
−

|-

 
−

! Tier 6 !! Tier 7 !! Tier 8 !! Tier 9 !! Tier 10

 
−

|-

 
−

|

 
−

*[[Recipe|Random Recipe]]

 
−

*Currency 1800 -{{Currency2|g=2100}}

 
−

*[[Quilted Cloth]]

 
−

*Low chance of random Threads Essence

 
−

||

 
−

*[[Recipe|Random Recipe]]

 
−

*Currency 2600 -{{Currency2|g=3200}}

 
−

*[[Quilted Cloth]]

 
−

*Chance of random Threads Essence

 
−

*[[Clothing Dye|Shade Dye]]

 
−

||

 
−

*[[Recipe|Random Recipe]]

 
−

* Currency 4500 -{{Currency2|g=5800}}

 
−

*[[Silk Cloth]]

 
−

*Higher chance of random Thread Essence

 
−

*Lower chance of random Pristine Thread Essence

 
−

*[[Clothing Dye|Crimson Dye]]

 
−

||

 
−

*[[Recipe|Random Recipe]]

 
−

* Currency 8000 -{{Currency2|g=12000}}

 
−

*[[Silk Cloth]]

 
−

*Chance of random Pristine Thread Essence

 
−

*[[Clothing Dye|Vile Dye]]

 
−

*[[Clothing Dye|Blaze Dye]]

 
−

*[[Clothing Dye|Ice Dye]]

 
−

||

 
−

*[[Recipe|Random Recipe]]

 
−

*Currency 20000 -{{Currency2|g=40000}}

 
−

*[[Silk Cloth]]

 
−

*Higher chance of random Pristine Thread Essence

 
−

*[[Bless Deed]]

 
−

|}

 
−
 
−

== References ==

 
−

<references/>

 
---
Revision as of 00:46, 9 January 2020
The information in this article needs to be updated to the latest patch.


Crafting orders is a system for crafters to obtain new crafting recipes and rewards.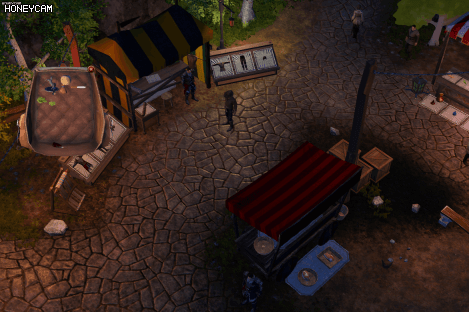 There are crafting orders for 3 of the crafting skills Carpentry. Blacksmithing and Fabrication. You can obtain a crafting order by speaking to the merchants within corresponding shops in towns across Celador. You will be able to select a crafting order from a list of 4 that are random but based on your skill and which recipes you already know. You may only fill that order with items you have crafted. You may only collect one crafting order per merchant every 30 minutes. Turning in a completed order will clear the timer and allow you to receive another order.
Completing a Crafting Order
To complete a crafting order you must craft the number of the item it requires. Example: if you receive a crafting order that requires 20 cloth long-sleeved shirts, you must use the fabrication skill to craft 20 long-sleeved shirts. You then double click the crafting order and use the cursor to click on the items you have crafted. Once you have filled the order you interact with the relevant merchant and hand it in. You will then receive a reward based on the difficulty of the order. The rewards are split into a tiered system with each crafting order separated into a specific reward tier from 1 to 10 that will offer the chance to receive rewards based on that tier.
Rewards
When you complete a crafting order there is a chance to receive a reward. These take the form of gold, a random recipe, some resources and or a rarer item such as a bless deed, weapons wrack or clothing dye. The rare rewards are subject to the different skills, for example, clothing dyes are only available from fabrication crafting orders.