The subject of this article is no longer obtainable or has been removed from the game.
The information from this article is kept for historical purposes and should not be further categorized.

Ether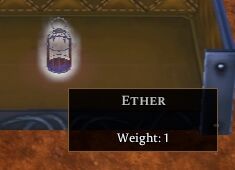 Ingredient
Weight: 1
Ether was an Inscription and Alchemy ingredient that was crafted by those with sufficient Alchemy skill.
Source
Ether was crafted with at least 50.0 Alchemy skill:
Use
Ether was an ingredient for the following recipes: