m

Line 16:
Line 16:
 
 
 

===Vendors===

 

===Vendors===

−

Hatchets can be purchased for {{currency|30}} from on top of the table at [[Mel the Tinkerer]]'s stall in [[Eldeir Village]].

+

Hatchets can be purchased for {{currency|}} from on top of the table at [[Mel the Tinkerer]]'s stall in [[Eldeir Village]].

 
 
 

[[Category:Tools]]

 

[[Category:Tools]]
---
Revision as of 16:13, 15 February 2019
Hatchet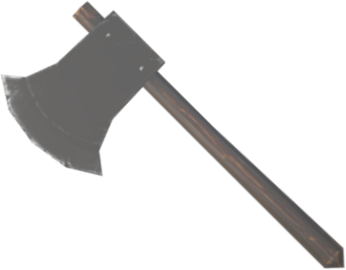 Tool
Damage: 3
Attack Speed: 3
20/20
Weight: 4
Sells for 3 gold
Hatchet is a Lumberjack Tool used for cutting down trees. It can also be used in combat.
Source
Crafting
Hatchets can be crafted through Blacksmithing with 0 Skill points and the following materials:
Vendors
Hatchets can be purchased for 40 gold from on top of the table at Mel the Tinkerer's stall in Eldeir Village.