Tag:

Visual edit: Switched

m

Line 12:
Line 12:
 

To build a house, players will need a housing [[blueprint]] (which can be bought at a carpenter or architect shop in most towns) and a [[Land Deed|housing plot]] big enough to fit the house. Players will also need to ensure that their desired house location is unobstructed (does not have items or furniture on the ground).

 

To build a house, players will need a housing [[blueprint]] (which can be bought at a carpenter or architect shop in most towns) and a [[Land Deed|housing plot]] big enough to fit the house. Players will also need to ensure that their desired house location is unobstructed (does not have items or furniture on the ground).

 
 
−

The interaction menu on the blueprint, right-clicking the blueprint, allows players to choose which direction the built house will face. Upon using a blueprint, a house foundation will spawn and must be provided with materials. Placing down the house foundation will consumed the blueprint and render the foundation immovable. Once the house foundation has been supplied with all its materials, the house will fully constructed and usable.

+

The interaction menu on the blueprint, right-clicking the blueprint, allows players to choose which direction the built house will face. Upon using a blueprint, a house foundation will spawn and must be provided with materials. Placing down the house foundation will the blueprint and render the foundation immovable. Once the house foundation has been supplied with all its materials, the house will fully constructed and usable.

 
 
 

Be mindful of terrain as flowers and other items may display through the floor of a finished home.

 

Be mindful of terrain as flowers and other items may display through the floor of a finished home.

Line 19:
Line 19:
 

A player may reclaim the [[blueprint]] if they decide to relocate, reposition, or turn their home up until the time the construction is completed. However, any building materials spent on the house are lost. To demolish a home, open the housing gump, select the "Manage" tab, then click "Destroy" and confirm on the popup.

 

A player may reclaim the [[blueprint]] if they decide to relocate, reposition, or turn their home up until the time the construction is completed. However, any building materials spent on the house are lost. To demolish a home, open the housing gump, select the "Manage" tab, then click "Destroy" and confirm on the popup.

 
 
−

Fully-built homes will not return plans or materials.

+

Fully-built homes will not return or materials.

 
 
 

==Taxation==

 

==Taxation==
---
Revision as of 10:14, 11 May 2019
For an Interactive Map of Player Housing in the game, see:
Player Houses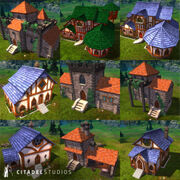 Player Housing, also known as POH (Player Owned Housing), is a feature that allows players to place several of the different housing types on a housing plot. Players have complete control over the items placed in and around their house including furniture, crafting tools, and lockable storage containers.
Note: Players may have as many houses as they can fit on a single housing plot. However, only one housing plot is allowed per player account, i.e. for all her/his in-game characters. However, players will likely need significant space between the houses if they receive the error "There is already a house on this location". To mitigate this, players may need as much as 5 blocks distance between the houses.
Housing Plot
Players need to have a housing plot big enough to fit the house. A Land Deed is used to claim a piece of land and can be purchased from a carpenter shop for 5

60

. Using a land deed to claim land will give you a 12x12 plot of land which can be resized for a cost.
Building a House
To build a house, players will need a housing blueprint (which can be bought at a carpenter or architect shop in most towns) and a housing plot big enough to fit the house. Players will also need to ensure that their desired house location is unobstructed (does not have items or furniture on the ground).
The interaction menu on the blueprint, right-clicking the blueprint, allows players to choose which direction the built house will face. Upon using a blueprint, a house foundation will spawn and must be provided with materials. Placing down the house foundation will consume the blueprint and render the foundation immovable. Once the house foundation has been supplied with all its materials, the house will be fully constructed and usable.
Be mindful of terrain as flowers and other items may display through the floor of a finished home.
Demolishing a House
A player may reclaim the blueprint if they decide to relocate, reposition, or turn their home up until the time the construction is completed. However, any building materials spent on the house are lost. To demolish a home, open the housing gump, select the "Manage" tab, then click "Destroy" and confirm on the popup.
Fully-built homes will not return blueprints or materials.
Taxation

Houses are not subject to taxes, but the plot of land is.
Home Customization
Clicking on the house sign opens the house control window. This allows players to rename or destroy their house, create a new door key, or adjust decoration placement.
List of Houses
*LD: Lockdown limitm
*SC Secure container limitm
Plot and House Features
Lockdowns
Lockdowns are assigned based on plot size. The larger the plot, the more Lockdowns are allowed. Lockdowns are managed through the Plot Management Window. When an item is placed on the ground somewhere within the plot's boundaries, players can lock the item down to prevent theft and automatic removal by the game engine. Locked down items can not be assigned for sale by a Merchant.
Secure Containers
Secure Containers are assigned based on house size. More expensive houses allow more Secure Containers. A Secure Container can be placed within the home and is proof from theft even without a key. Containers that exceed this limit can still be placed, but must be locked with a key to keep them from being freely looted. Secure Containers cannot be Lockpicked, however, keyed containers can.
Vendors
Players are able to recruit NPC vendors from a local town to sell their goods. Vendors will agree to work for a player for 1

, plus 10% of the profit. Vendors are unable to move through a portal, so the player must escort the NPC home. Vendors are primarily meant to be placed outside, as houses are generally locked, and containers are considered secured. For more detailed information, see the Merchant page.
Videos