The League of Artisans, located near the beaches of Helm, is one of four Leagues of Celador.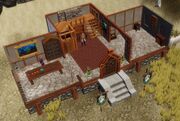 The Artisans offer quests related to a craft skill that can changes each season. Upon completion of a quest, a player is rewarded with favor. Once enough favor is accumulated, players can exchange it for unique and valuable items.
Marlo will grant missions when interacted with. Marlo can be stubborn and withholding of available quests and sometimes needs to be spoken with repeatedly.
Jig will exchange favor earned for items.
Quests
[
]
Artisan Items
[
]
| Item | Cost | Description |
| --- | --- | --- |
| Artisan's Ring | 36000 | A ring that grants +30 health, 15% increased harvest speed, and +50 weight capacity |
| Artisan Hair Dye | 8000 | A single use, exclusive hair dye |
| Artisan Cloth Dye | 8000 | A unique cloth dye |
| Artisan Leather Dye | 8000 | A unique leather dye |
| Artisan Cloak | 18000 | A unique cloak |
| Title Scroll: The Mason | 24000 | A scroll that unlocks the title 'The Mason' |
| Artisan's Apron | 36000 | An apron that grants +50 health, 10% increased harvest speed, and +30 weight capacity |