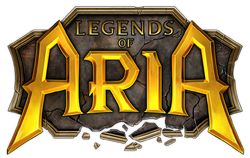 Welcome to the Official Legends of Aria Wiki
Welcome to the Official Legends of Aria Wiki
Please feel free to contribute by creating new articles or expanding on existing ones.
About Legends of Aria
Legends of Aria, formerly known as Shards Online, is breaking away from the modern MMO conventions of levels, classes and quest grinds. Instead, it is returning to living virtual worlds where stories emerge naturally as players explore the worlds laid out before them. The game will launch with a complete game containing several official rule-sets. The current plans include one with a well-balanced set of gameplay, a hardcore PvP battle-royale, and even one featuring permanent character death: the ultimate game of risk versus reward.
PC is the platform initially targeted, with plans for a Mac and Linux launch. With the purchase of the game, players will be able to play on official or player run servers and run a single 'shard' with no additional cost or subscription fees. Players will be able to form massive servers by connecting their self-hosted worlds together using a 'cluster server' hosted by Citadel Studios. These servers, when marked public, are listed in-game for all players to see and join.
Legends of Aria
is the first game that legitimately allows players to run and moderate their own game worlds with the potential to support thousands of users at one time. Customize every aspect of the servers' gameplay experience from character development, to combat, to items and equipment, to monsters and AI. Players can even add completely custom game worlds! Ultimately, Citadel Studios isn't just creating game that fosters a player community, instead, they are giving players the tools to create their own in-game communities.
Websites
Legends of Aria Sites
Social Network Sites
Wiki Community
We are currently maintaining 4,096 pages (1,138 articles)!
Recent changes | New pages | Missing pages
See how you can help contribute to the Legends of Aria Wiki! Remember to maintain a standard for grammar and punctuation in your contributions, please.
Register an account to keep track of your contributions.
We are always looking for more contributors! If you're looking to help, please be bold and start editing! Remember to check out our help wiki if you're new to wikis. Areas most in need of help are...