Jurassic World: Dominion Dominates Fandom Wikis - The Loop
Play Sound
Prestige Abilities are extra abilities your character can learn in addition to the basic weapon and skill abilities.
These abilities are learned by meeting specific skill requirements, completing profession quests and earning enough Ability Points to pay for the ability. You can find your abilities by accessing your character window and clicking on the red book at his feet or by clicking the red book in the player tool bar located on the bottom right of the UI.
A player can learn a maximum of 1 ability from each tier and learn a total of 3 abilities. Trying to train a 4th will prompt you to swap the ability you currently have for that tier.
Requirements
[
]
To train a prestige ability you need fulfill three requirements.
You must complete the Professions Quests for the abilities you would like to learn. If you only require a tier 2 fighting ability then you only need to complete up to master on the fighter profession.
You need the requisite amount of ability points depending on the tier of prestige ability you are training. Ability points are obtained by gaining prestige experience by killing monsters. Gaining 1000 prestige experience gives you 1 Ability Point

Level 1: 3 Point
Level 2: 15 Points
Level 3: 30 Points

You must have the requisite skill levels on your character. This requirement varies by prestige ability and level.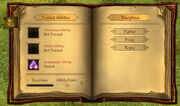 Prestige Abilities List and Details
[
]
Name
Image
Description
Level Required
Ability Points required
Skills Required
Fighter Profession
Dart
Increase movement speed by 30% for 8 seconds


1 min cooldown

Journeyman


Min 50 in required skills

3 points
Hamstring
Reduces your targets run speed by 50% for 8 sec.


1 min. Cooldown

Charge
Charge at your target and stun them for 3 seconds


45 Sec. Cooldown & 10 meter range

Master


Min 80 in required skills

15 points
Shield Bash
Stun the target for 12 seconds (reduced to 4 seconds if a player)


1 Min Cooldown & requires a shield

Stun Strike
Stun all enemies 4 yards in front of you for 5 seconds (reduced to 3 for players)


20 Sec. Cooldown

Adrenaline Rush
Feel a rush of adrenaline and restore stamina rapidly


2 Min. Cooldown

Grandmaster


Min 100 in required skills

30 points
Evasion
Increase evasion by 10 for 7 seconds.


30 second Cooldown

Vanguard
Movement speed reduced by 20%, Damage received reduced by 80%, Half of all damage received is reflected. Duration 5 seconds.


2 Min. Cooldown

Mage Profession
Meditation
Increase Mana Regeneration significantly for 30 seconds while standing still.


2 min. Cooldown

Journeyman


Min 50 in required skills

3 points
Spell Chamber
When activated, the next spell cast (5 difficulty or less) maybe stored and released at will.


1 min. Cooldown

Empower
Your heal spells will do 50% more healing to friendly targets within 8 yards of user. Lasts 10 seconds.


1 min. Cooldown.

Master


Min 80 in required skills

15 points
Silence
Silences the target from spellcasting for 3 seconds. If silenced during casting Silence duration is increased by 2 seconds.


30 sec. Cooldown, 15 yard range.

Mage Armor
Prevents interruptions & reflects spell damage back at attacker to a total of 200 damage. Duration 10 seconds.


2 min. Cooldown

Grandmaster


Min 100 in required skills

30 points
Ice Barrier
Summon and ice barrier, becoming immobile and imune to damage. Cannot Cast, use abilities or items. Duration 5 Seconds.


1 min. Cooldown.

Rogue Profession
Vanish
Instantly hide. Removes all player debuffs.


1 min. Cooldown

Grandmaster


Min 100 in required skills

30 points