The profession system, is a series of optional quests that players can use to encourage their progression on specific skills or sets of complimenting skills example:Rogue profession includes Hiding and Stealth skills.
How to begin a profession quest
[
]
To access professions you must use the icon in the character bar in the bottom right of your screen..


To begin a quest you will need to complete an introduction quest which requires no skill. Upon completing the introduction quests , you will be rewarded with 30.0 skills to help advance the profession skill. The introductory quest will help explain the basics of how the profession functions.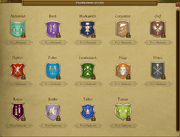 The Professions
[
]
After the introduction quest you will unlock the profession quests. There are 4 for each profession that require a minimum skill level at each stage.



The following table lists the professions and minimum requirements for each mission.
*As of patch 9.0.0 these professions can only be completed up to apprentice
Completing Quests
[
]
When you complete the Fighter, Rogue and Mage professions it will give you the ability to add Prestige Abilities to their character.
When you complete the crafting and gathering professions it will give you the ability to add Prestige Passives to their character,