Wood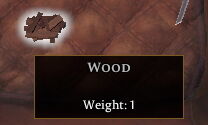 Wood is a raw resource chopped from trees
Weight: 1
Wood is a basic raw resource used to make Wooden Board for use in carpentry.
Use
[
]
Wood is used to make wooden boards. 5 Wood will make 1 board.
Source
[
]
Wood is harvested from trees across Celador. It is the most common type wood that can be harvested.
Media
[
]